Not only are our members important to us, but so is positively impacting the communities we serve. See what we've been doing to help out the local areas in Union and Essex Counties.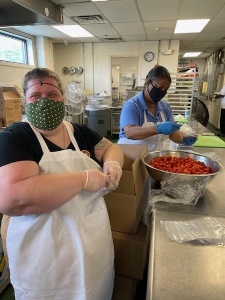 We had the privilege of volunteering at
The Community FoodBank of New Jersey
this past July. In partnership with CFBNJ's dedicated staff, we prepared sandwiches and veggie snack pouches to distribute to community members in need. For the past 45 years, CFBNJ has been delivering food, help, and hope in 15 of the 21 counties of New Jersey. To learn more or volunteer, please visit
https://cfbnj.org/volunteer/
.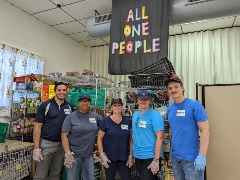 The Atlantic Federal Credit Union volunteered at
St. Joseph Social Service Center
in the end of June to help with their weekly farmer's market. Since 1983, St. Joseph's has served members of the greater Elizabeth area in need by providing food, clothing and medications, as well as a wide range of services and programs to help everyone in the community live with integrity. If you would like to get involved, please visit their website at
www.sjeliz.org/volunteer.html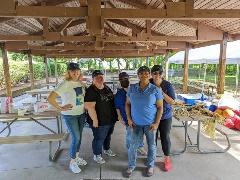 In June, volunteers from The Atlantic Federal Credit Union had the privilege of helping
The Gateway Family YMCA
prepare for their annual summer camp. Together, we cleaned the outdoor campsite and set up festivities for the start of camp, which is designed to help working parents, create economic stability for families, and benefit campers with enjoyable and educational activities. Thank you to The Gateway Family YMCA for having us!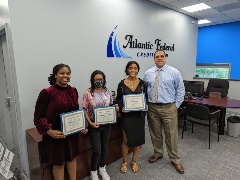 Congratulations to the winners of the 2022 Atlantic Federal Credit Union Scholarships for displaying outstanding leadership, community involvement, and academic achievement! Aliyah W. of North Plainfield will be attending N.C. A&T State University, Pamela S. of Newark will be attending Rutgers University, and Lucy E. of Linden will be attending Boston University. Congratulations on your achievements and continued success as you begin your collegiate careers!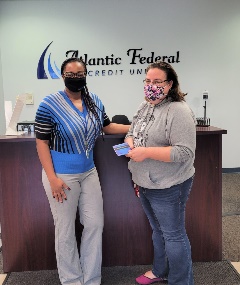 In October, we happily donated to Cranford's St. Michael School for their 2021 Annual Tricky Tray Fundraiser. Atlantic Federal's Yvana Ellison (L) presented a gift card to their committee member Emilie Schoenfeld (R). We wish them much success on the event!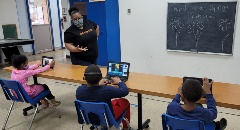 It was our pleasure to donate 12 conference room tables to the Boys & Girls Club of Plainfield this Summer, just ahead of the 2021 school year. We can already see that they're being put to good use and love to witness the great work the organization is doing for the community!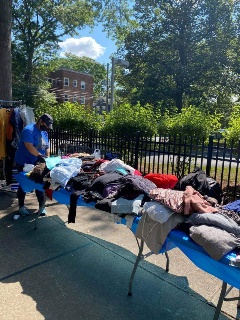 This Summer, we had the pleasure of working side-by-side with Bianca Flowers Inc. at their "2021 Christmas in July" Clothing (and more) Drive. The event was a great success and we're so proud of Carla White-Garrett for representing the Credit Union so graciously!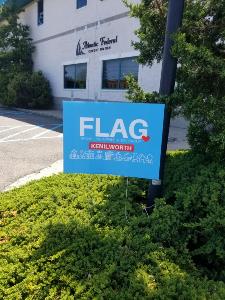 In May 2020, we donated a matching gift to the Front Line Appreciation Group (FLAG) of Kenilworth. This group has been purchasing meals from local restaurants and delivering them to local front-line workers during the COVID-19 pandemic. Through our contribution, they'll be able to provide 65 meals to several deserving "essential heroes". We are proud to support such an amazing initiative and wish them continued success!
Thanksgiving 2019 was a success in the community of Newark. We visited the North Ward Family Success Center to contribute to their 11th Annual Turkey Distribution Campaign. In total they were able to supply eighty-two families with a Thanksgiving dinner. Together we can better serve our community.
Our staff Participated in the 29th Annual West Orange Mayor's 5k Walk in support of Ovarian Cancer awareness. The walk raised nearly $80,000 this year, almost breaking it's fundraiser record! This is such a worthy cause and we're proud of our gang for doing their part!
In lieu of annual meeting gifts this year, Atlantic Federal donated $750 to two community organizations. Yvana Ellison (L) of the Credit Union presented a check to Linda Closs from Plainfield's Bianca Flowers Organization. This group provides food, clothing and parenting education to the area's homeless and families in crisis.
Atlantic Federal donated $750 each to two separate community organizations in lieu of annual meeting gifts this year. Here, the Credit Union's Carla White-Garrett (L) visited with volunteers at West Orange's food pantry at Holy Trinity Episcopal Church while making the donation.
Roselle Park resident Maria Krynicki from the Credit Union's Human Resources Department presented a Credit Union gift basket to Jason Lualhati of the Roselle Park's Parent Teacher Organization for the elementary school's first Tricky Tray fundraiser.
Yvana Ellison (L) and Carla White-Garrett presented Officers Sean Kaverick (L) and Robert Cox from the Kenilworth Police Department with a $350 check to help buy holiday toys for some of the town's needy children.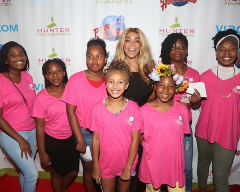 The Hunter Foundation Summer Throw Down with Wendy Williams event at Planet Hollywood NY was awesome! This fundraiser was an additional effort to help send young girls to camp this summer. Campers along with supporters were treated to a host of festivities. We're so happy to support this initiative and we look forward to collaborating on future events.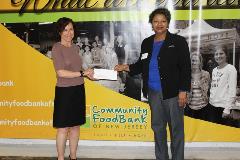 Recently, we held our 82nd Annual Meeting and in lieu of raffling gift cards and prizes like in past years, we donated $1,500 to The Community FoodBank of New Jersey . We've had a long-standing relationship with the organization for over a decade and are proud supporters of their mission.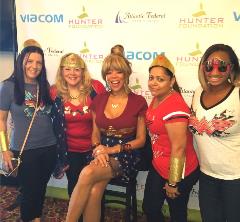 We had the pleasure of hanging out with TV host Wendy Williams and some of her amazing friends for the opening weekend of Wonder Woman in support of her non-profit organization, The Hunter Foundation. The purpose of the fundraiser was to help send 40 young girls from Essex County to Camp Mason this summer. Everyone embraced the "Girl Power" movement and had a blast!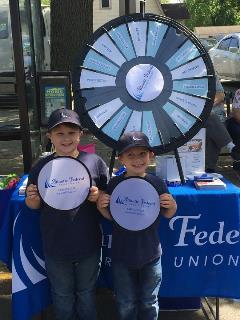 The Kenilworth Street Fair was a big hit this year! There was fun for all to enjoy, including our "Famous Prize Wheel." Thanks to all who came out and Congrats to our special winners.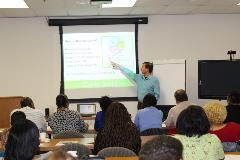 Our "Preparing for Home-ownership" workshop led by GreenPath Financial Wellness and our mortgage department was a great success!! We were so pleased to see so many members and new friends come out to participate. Not only are we here for your banking needs, but we also pride ourselves on being a helpful resource to you as well.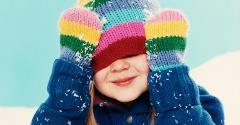 We kicked off our Annual Winter Coat Drive in November 2016 and will keep it going through February 2017. We've already collected enough coats to help several dozen families and we want to keep it going. If you have any new or gently used cold weather items that you would like to donate to someone in need, please drop them off at our Kenilworth, Newark or West Orange branches.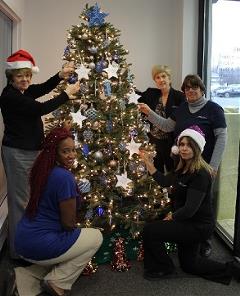 This year, we were excited to announce our first 2016 Annual Giving Tree! The holidays are a time when everyone deserves a little extra cheer. This is especially true for those who may be less fortunate. So we collected "Wish List" items that were found hanging throughout our tree like clothes, toys, winter accessories, books and more. We were happy to spread some extra joy this holiday season!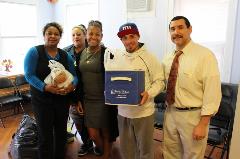 This year, we were fortunate enough to be able to donate 30 Thanksgiving dinners to our friends at the North Ward Center & the Community Food Bank of NJ. These organizations do a phenomenal job helping those in need in our community and we're always proud to support them.
Recently, we held our 81st Annual Meeting. In past years, we've raffled off gift cards and provided door prizes to attendees. However, this year in lieu of gift cards and prizes we opted for something more charitable. We donated $1,500 to The Community Food Bank of New Jersey. We've had a long-standing relationship with the Food Bank for over a decade and are proud supporters of their mission. Today through combined efforts, they distribute 43 million pounds of food a year to feed 900,000 hungry people in 18 New Jersey counties. If you want to learn ways that you can help, visit www.cfbnj.org
Recently, the story of a little girl's Christmas wish went viral. Eight-year old Safyre Terry of New York, who lost her entire family in 2013 to a house fire had a simple request for Christmas – enough Christmas cards to fill her card holder. Once we heard the story we made sure that she went to the top our holiday mailing list. We provided an assortment of cards to our staff and invited them to send holiday wishes to Safyre. We quickly filled up a box that was then sent to this special little girl just in time for Christmas. We hope the days ahead are bright and merry for her!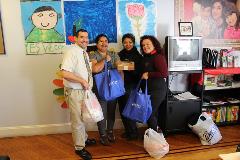 This year, we were delighted to make ‪Thanksgiving donations to those in need throughout our community. We were able to donate a total of 45 dinners - pie and turkey included - to three different organizations that work to assist local families, including the Community Food Bank of NJ, St. Mary of the Assumption High School and the North Ward Family Success Center.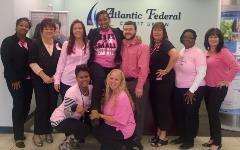 In support of Breast Cancer Awareness Month, our staff showed off their best PINK each Friday in October! Not only did we make a donation to the ACS Breast Cancer Fund on behalf of Atlantic Federal, but members of our staff also joined up to walk in the Making Strides of Central Park event. We commend everyone on all of their efforts and will continue to raise funds and awareness for the fight against Breast Cancer.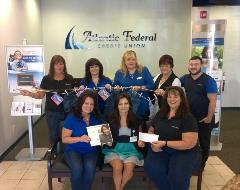 During the summer, Atlantic Federal staff wore jeans each Friday in honor of Miracle Jeans Day. Each participant, as well as many members, made a donation which was then matched by the credit union and donated to our local Children's Miracle Network Hospital. We were happy to do our small part in helping to make an impact on the lives of many deserving children in our community.
It was our pleasure to sponsor the NJIT Student Appreciation Ice Cream Social hosted by Alumni Relations and Career Development Services Campus Center in honor of Student Appreciation Week. The students really enjoyed the treat and were equally excited to enter our raffle giveaway. Congrats to our iPad Air raffle winner Joseph T. and we look forward to going back for more exciting events!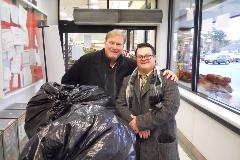 Over the winter months, we held our Gift of Warmth Coat Drive. Through both staff and member donations, we were able to supply dozens of coats to many in need this cold season. Some of our recipients included the North Ward Center, Community Access Unlimited, the Sean Quinlan Eagle Scout Project of Essex County and Bianca Flowers Inc. We were happy to be able to help so many deserving neighbors in our communities.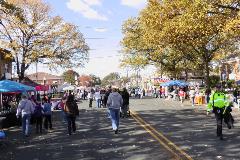 The annual Kenilworth Street Fair was full excitement with live bands, delicious food, activities for the children and lots of giveaways!! It was quite windy, but we weathered it and still had a great time. We love these community events and can't wait to do it again next year!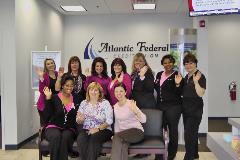 Throughout the month of October, employees were able to make a donation and wear pink each Friday in support of Breast Cancer Awareness. All funds raised were donated to the American Cancer Society. We thank everyone for "thinking pink" and helping to shed light on such an important issue.
Over the summer, employees were allowed to wear jeans once a week in support of Miracle Jeans Day. Through staff donations and a company match, we raised over $1,000 to donate to our local Children's Specialized Hospital! We were happy to support such a great cause and we thank all of our staff who participated in making this a success!
Just before the kids went back to school, we donated a total of 75 Atlantic Federal drawstring bags and $500 towards supplies to Family Support Organization of Essex County and North Ward Family Success Center. We're wishing all of the students and teachers a safe and successful 2014-2015 school year!
On July 11, we had the pleasure of sponsoring the 2nd annual Outdoor Movie Night event at the Essex County Riverfront Park. The kids got to participate in some fun activities and as the sun set everyone gathered around to watch "Finding Nemo". We had a great time and were happy to see so many families come out to enjoy this evening together!
On Saturday, June 28th, we celebrated our Kenilworth Grand Re-Opening. The day was filled with music, popcorn, ice cream, prizes and fun for all. It was wonderful to share this milestone with the people in our community. We thank everybody who came out, as we truly enjoyed ourselves. We look forward to hosting future events like this that will bring even more people together!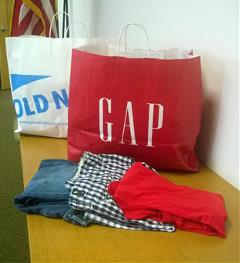 Recently, a family in the community suffered a terrible house fire and sadly lost all of their belongings. After hearing their story, our staff rallied together to donate clothing, shoes, gift cards and other useful items in an effort to help out where we could. The family is still trying to recover from the incident but was truly grateful for the gesture. Our hearts continue to go out to them.
We were delighted to share a closet full of prom dresses donated by our staff to the students at Barringer High School in Newark. They were excited to receive them as Rosa Fajardo from our Newark branch and Carla White-Garrett from our Kenilworth branch helped with the special delivery. We hope that each of the lovely ladies who puts on one of those gowns feels as beautiful as we know they are!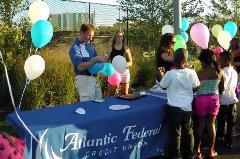 In addition to being the financial sponsor of the Newark Ironbound Community Corp.'s outdoor movie night in Riverfront Park, our staff was at the event with balloons and Frisbees for the kids. Left to right are the Credit Union's Chief Operating Officer Daniel Czerniawski, his wife Magdalena and Karina Pinheiro, Newark Branch Manager.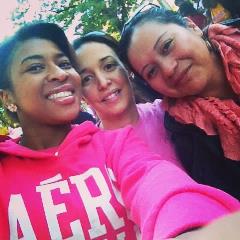 Participating in the Breast Cancer Awareness Walk in Newark's Lincoln Park were Ashley Meredith, Karina Pinheiro and Rosa Fajardo, all from the Credit Union's Newark Branch. The walk helps to raise funds to fight breast cancer and increase awareness of the cause.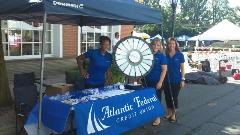 An Atlantic Federal team was on hand at the summer Cranford street fair. Community residents enjoyed spinning the Credit Union prize wheel and the kids thought it cool to sport Atlantic Federal tattoos. Left to right are Kenilworth's Yvana Ellison, Renee Lopes and Nara Graichen.